SPARTUS® EasyMIG 200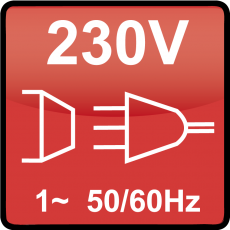 Single phase supply voltage





Welding wire spool ø 200mm




spawania metodą TIG z zajarzeniem łuku Lift (przez potarcie)




Package equiped: • EasyMIG 200 machine • MIG gun SPARTUS® SPE 150 3m • Electrode holder • Work clamp • Gas hose with bands • User's manual
SPARTUS® EasyMIG 200
Product code:
EASYMIG200-PAK-15-3
SYNERGIC MIG 3 in 1
SPARTUS® EasyMIG 200 is a semi-automatic welding machine made in inverter technology. Allows welding in an inert and active gas shield (MIG/MAG), coated electrode (MMA) and TIG Lift with arc ignition. In addition, the device thanks to the ability to change the polarity of welding, enables welding with flux cored welding wire without gas.
Maximum welding current for MIG method is 200A, and for MMA and TIG Lift – 160A. The unit is powered from a single-phase network 230V.
The easy-to-use control panel allows for quick adjustment of welding parameters. EasyMIG 200 is characterized by a simple synergy in which only the wire diameter is determined for the selected gas. The device has functions supporting the welding process:
• 2T/4T,
• Burn Back,
• inductance adjustment
• voltage compensation.
Light EasyMIG is equipped with a two-roll welding wire feeder, which ensures smooth and even feeding of the welding wire. Exemplary applications: workshop works, outside site repairs, automotive.
| | |
| --- | --- |
| Input | ~1× 230V ± 10% 50 / 60 Hz |
| Welding current MIG [A] | 40 - 200 |
| Duty cycle MIG [%] | 60 |
| Output working voltage [V] | 16 – 24 |
| Wire feeding speed [m/min] | 3 - 18 |
| Wire feeder | built-in, 2-roll gear |
| Welding wire spool [kg]/[mm] | ≤5 / 200 |
| Wire diameter ∅ [mm] | 0.6, 0.8, 1.0 |
| Additional features | 2T/4T control , TIG lift welding, Burn Back, synergy, brazing (CuSi3), MMA welding, Pre-gas, Post-gas |
| Welding current TIG [A] | 20 - 160 |
| Duty cycle TIG [%] | 60 |
| Welding current MMA [A] | 20 - 160 |
| Duty cycle MMA [%] | 60 |
| Current consumption [A] | MIG 26.4 / MMA 23.2 / TIG 14.4 |
| Power factor (cosφ) | 0,93 |
| Efficiency η [%] | 85 |
| Insulation class | F |
| Protection class | IP21S |
| Weight [kg] | 10 |
| Dimensions [mm] | 400 x 195 x 270 |