SPARTUS® EasyARC 205LCD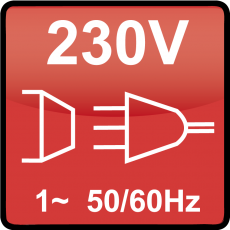 Single phase supply voltage






spawania metodą TIG z zajarzeniem łuku Lift (przez potarcie)

łatwiejsze spawanie w trudnych pozycjach np. pułapowej

tzw. "gorący start" – łatwiejsze zajarzenie elektrody otulonej

obniżone napięcie bez obciążenia

Package equiped: • device SPARTUS® EasyARC 205LCD, • electrode holder, • work clamp, • shield, • hammer with a brush, • shoulder strap, • user's manual
SPARTUS® EasyARC 205LCD
Product code:
EasyARC205LCD_pak
Net price:
104.60 euro / szt.
PRECISION AND LIGHTWEIGHT INVERTER WITH LCD DISPLAY.
SPARTUS® EasyARC 205LCD is small, light inverter welder. It allows the MMA and TIG Lift DC welding in the 10 — 200A range at high 60% work cycle.
The modern LCD allows an easy and intuitive setting the welding current strength, simultaneously presenting recommended electrode diameter and material thickness for the set current.
Functions:
– Hot Start — facilitates striking the arc
– Arc Force — prevents the electrode from "sticking" to the welded material
| | |
| --- | --- |
| Input | ~1× 230V ± 10% 50 / 60 Hz |
| Welding current MMA [A] | 10 - 200 |
| Duty cycle MMA [%] | 60 |
| No-load voltage [V] | 80 |
| Additional features | Arc Force, Hot Start, TIG lift welding, VRD |
| Current consumption [A] | 42 |
| Power factor (cosφ) | 0,76 |
| Efficiency η [%] | 85 |
| Insulation class | H |
| Protection class | IP21S |
| Weight [kg] | 4 |
| Dimensions [mm] | 270 x 130 x 200 |